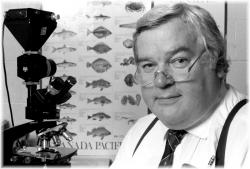 Today we are saddened to learn of the passing of Professor Emeritus Dr. Michael (Mick) David Brunskill Burt (1938-2014). His obituary notice is attached and highlights his exemplary career.
Mick developed a lifelong passion for the field of parasitology and remained a mentor for students in the field even up until this year. May his commitment to teaching and understanding the complexity of parasites inspire us all. Below is the message from his obituary,
The death of Michael (Mick) David Brunskill Burt of Fredericton occurred on Saturday, March 8th, 2014 at the Dr. Everett Chalmers Hospital in Fredericton, NB.
Mick Burt was born on January 19, 1938 in Colombo, Sri Lanka, and he moved home to Scotland with his family in 1946. He attended the University of St Andrews, obtaining a BSc (Honours) and a PhD in Parasitology. In 1964, he moved to Fredericton to take a position at UNB, where he began his long career teaching Biology and investigating his life-long passion, the lives of parasitic organisms. Over the past fifty years, Dr. Burt was the recipient of many prestigious awards for teaching and research. His extensive service to the university, which included 11 years as Chairperson of the Biology Department and 7 years as President of the Faculty Club, was eclipsed only by his service to the community and to innumerable national and international organizations.
Although he retired from UNB in 1995, he remained active in the Biology Department as lifetime Professor Emeritus and Honorary Research Professor, teaching and supervising students until this year. He also worked for many years as Director of Academic Programs at the Huntsman Marine Science Centre in St. Andrews By-the –Sea. Thousands of Biology students will remember his excellent lectures imbued with rich anecdotes. The impact he had on these students can be seen throughout the province and beyond in their work as nurses, teachers and scientists.
Mick's many passions included his internationally renowned research, teaching, travelling and fishing. He loved to entertain, cooking gourmet meals, playing piano, telling stories, and sharing fine wine and single malts. Many colleagues around the world will remember his hospitality, leadership and his friendship.
Mick was predeceased by his parents, David Raitt Robertson Burt and Margherita (Brunskill) Burt, and his brother Dr. James Robertson Burt. He is survived by his sister, Susan Jamieson; children – Carolyn Ramsay (Bert Ramsay), Diane Burt (Cenk Acar), Sheila Burt (Gordon Thomas), and David Burt (Erin Whitmore) and their mother Joan
Burt; children – Katherine Burt and Hilary Burt and their mother Barbara MacKinnon; grandchildren – Jessica Ramsay, Chris Bielecki, Stefan Bielecki, Emily Bielecka and Alec Dobbelsteyn; and nieces and nephews and their families – Peter Burt, Fiona Jamieson, David Jamieson, Graeme Jamieson, and Catriona Jamieson.
With respect and condolences,
Christopher N Weir, 
on behalf of Prof. Alan F Cowman, FRS FAA.